CONSCIOUS COLIVING , COWORKING & COMMUNITY
Develop your body, mind, and spirit while working remotely from Tenerife
AHORA curates each colive experience to ensure the highest value for you
Each AHORA colive experience is facilitated by experts in fitness, well-being, self-development, spiritual wellness, and hospitality. We work with a carefully selected team in Tenerife that will guide you through your transformational journey. Learn from authentic professionals, and unlock your full potential! 
AHORA values meaningful connections, therefore we select the tribe for each experience carefully during the intake process. This is to ensure that you are surrounded with likeminded professionals who seek meaningful connections, and value being present as much as being productive. Moreover, we customise the activities program for each experience to ensure you can bond over mutual interests.
During the intake process we discuss the following: 
Your motivation to join 
Your expectations from the experience
Your working schedule and necessities/requirements for remote work
Your interests and preferences regarding activities
Are you ready to work and live on your own terms?
REMOTE WORKING FROM TENERIFE
Tenerife has one of the best climates in the world, with an average temperature of 22 degrees all year. Tenerife has the most beautiful mountain regions and shores. Moreover, Teide is the 3rd highest volcano in the world. 
You can find stunning landscapes across the island: from volcanic moonlike landscapes, to rainforests, to beaches, and the desert. It is a heaven for nature lovers and adventurers!
Design your life the way you want to, and take your work with you
Escape winter and indulge in beautiful natural surroundings

Continue exploring the world without worrying about lacking annual leave days

Live, work, and connect with likeminded professionals

Build a conscious lifestyle and find balance between productivity and presence
Be inspired in personal and/or professional life
Develop your body, mind, and spirit thought various activities and workshops
WHY REMOTE WORKING FROM TENERIFE?
European timezone & developed roaming and infrastructure
African temperatures, diverse micro climates & Spanish culture and language
Three different mountain regions & Teide volcano
Diverse beaches, cliffs, and natural pools
Wine regions & banana plantages, Aloe Vera farms 
Colonial cities and fishers villages
And more…
The AHORA colive experience takes place in a unique venue
DOUBLE ROOM
Double or twin room for for one or two persons, Either private or shared with one tribe member.
TINY HOUSE
Private tiny house with a double bed for one or two persons. Perfect if you come on your own, with your bestie or partner.
COTTAGE
Cottage with 2 double bunk beds for maximum 4 persons. Either private or shared with other tribe members.
Take your work with you, AHORA will arrange the rest
Focus on strategising, creating, brainstorming, and what you do best, AHORA offers you the environment and tools that you need to be productive. After working hours, you can be fully present and engage with others through carefully selected activities for you!




ARE YOU READY TO UNLOCK YOUR FULL POTENTIAL?




During the AHORA  remote experience we create a sacred space to grow, experiment, and connect on a deeper level with yourself, others, and nature. 
One month is the preferred minimum duration to have sufficient time to experiment with various sports and activities, connect with likeminded professionals, and get your work done without unnecessary distractions. Upon availability we also offer 14 or 30+ days programs. 
We have various accommodation options and rates start from €1675 per month (5 weekends). If your personal situation does not align with these starting dates, if you struggle to convince your employer, or if you have other questions, please reach out. We are happy to explore possibilities and support you!
 Find balance between productivity and presence
Grow and unlock your full potential
Create meaningful connections
Transformational program to develop the body, mind, and spirit
Carefully selected tribe of likeminded professionals
Unique accommodation in natural surroundings
Workspaces and tools to be productive 
Daily breakfast
Activities and tours in collaboration with local partners that stay far away from tourist traps
Weekly house BBQ
Various network events where other co-working and co-livings from the island will be invited to expand your network
Local volunteering experience the power of service and compassion
Optional: local Spanish buddy to improve your language skills
April | 14-04-2023 until 14-05-2023 (last spots available 2-4 week programs)
Summer Break
October | 07-10-2023 until 03-11-2023
November | 04-11-2023 until 01-12-2023
December | 02-12-2023 until 02-01-2024
2024 season TBD
WELCOME FROM THE FOUNDER OF AHORA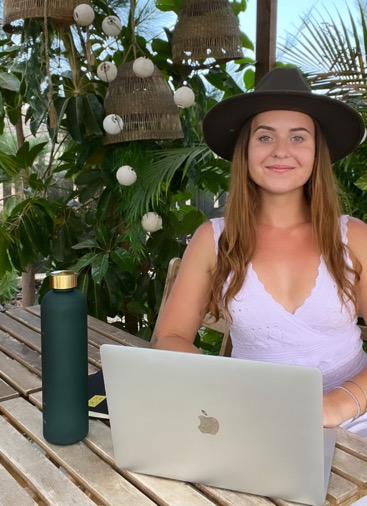 I am proud to have a Master of Science in tourism and hospitality management from EADA Business school, and over 10 years of working experience in the industry
Travelling is my biggest passion, I lived in 6 countries, and explored many more while working remotely
Creating unique experiences and strong communities is my expertise
With a certification in human design, I empower you to live in alignment
While creating AHORA, I combined my personal and professional experiences and everything that I love and stand for.
With AHORA I strive to unite likeminded professionals and support them in unlocking their full potential. Moreover, I want to give them the tools to find balance between productivity and presence, in order to live a more fulfilling life. 
I truly enjoy interacting with you!
Do you have any questions or remarks? Fill the form below, or reach out via e-mail! Love, Uliana
If you are ready to unlock your potential during a transformative remote working experience, but our starting dates, duration, or anything else does not align with your personal situation please reach out to discuss the possibilities.
You've got questions, we've got answers. Check out the frequently asked questions here. If you don't find what you're looking for here, reach out via WhatsApp or e-mail. We are here to help!