BLENDING THE BOUNDARIES BETWEEN WORKING AND LIVING
WITH AHORA COlIVING EXPERIENCE
Develop your body, mind, and spirit while working remotely from Tenerife
 Conscious coliving | Coworking | Community 
AHORA is for professionals who want to experience coliving and coworking in a conscious community
AHORA blends the boundaries between working and living together in unique natural surroundings, and invites you to take your work with you to the Canary island of Tenerife. AHORA combines the wellness benefits of a retreat, with the productivity tools of a modern coworking in a conscious coliving. On top of that, a mindful twist is added to the whole experience, that will calm your mind, stimulate your senses, activate your creativity to generate new ideas, and sharpen your vision.
AHORA is for you if you are ready to connect deeper to yourself, others, and nature. During the AHORA coliving experience, you will experiment with various tools that will help you to develop your body, mind, and spirit. All while getting your work done without unnecessary distractions.
And the best part is, you will go on this journey together with likeminded professionals, who seek meaningful connections, and value being present as much as being productive. AHORA creates a social atmosphere that you cannot experience on your own, it's like a summer camp or exchange program for adults.
Connect with us if you want to join our community, and experience conscious coliving! 
Connect with us on instagram!
Explore island life and work remotely from Tenerife for a full month. During the AHORA remote experience you will develop your body, mind, and spirit and unlock your full potential. 
One month is the preferred minimum duration to have sufficient time to experiment with various sports and activities, connect with likeminded professionals, and get your work done without unnecessary distractions. Upon availability we also offer 14 or 30+ days programs. 
We have various accommodation options and rates start from €1675 per month. If your personal situation does not align with these starting dates, if you struggle to convince your employer, or if you have other questions, please reach out. We are happy to explore possibilities and support you!
April | 14-04-2023 until 14-05-2023 (last spots available 2-4 week programs)
Summer Break
October | 07-10-2023 until 03-11-2023
November | 04-11-2023 until 01-12-2023
December | 02-12-2023 until 02-01-2024
2024 season TBD
AHORA creates the right atmosphere for you to thrive
Unwind in a natural environment surrounded by mountains, volcano's and beaches in Tenerife. Take a break from your regular routine, and find stillness. Stillness inspires new ideas, sharpens your vision, and deepens connections.
Take your work with you, AHORA will arrange the rest
Focus on strategising, creating, brainstorming, and what you do best, AHORA offers you the environment and tools that you need to be productive. After working hours, you can be fully present and engage with others through carefully selected activities for you!
Develop your body, mind, and spirit while working remotely
AHORA empowers you to unlock your full potential through the alignment of your body, mind, and spirit. We believe that transformation starts with self-exploration. Through various activities AHORA will help you break through limiting beliefs that are holding you back, and help you step into greatness. 
A strong body helps the mind achieve great goals. Fitness improves your physical and mental health, and gives you the confidence to thrive. Therefore, we will engage in various outdoor sports and activities. You do not need to be a top sporter, but you should enjoy an active lifestyle. Are you ready to get serious about your physical and mental health?
Hiking
Surfing
Yoga
HITT training
A growth mindset pushes limiting beliefs, and stimulates your curiosity to learn and grow. By engaging in various workshops we will learn from each other, exchange lessons, and personal stories. By surrounding yourself with inspiring professionals, you will level-up together. Expect to discover new hard skills, soft skills and mindset tips.
Growth mindset seminars
Gratitude practice 
Bonfire storytelling sessions
Co-creation workshops
The key to elite performance is stillness. Through self-exploration we will practice finding stillness, and living in the moment. We will be experimenting with various tools and exercises that will help you connect on a deeper level with yourself and others. If you dare to immerse fully, you might experience higher states of consciousness. 
Meditation
Breath work 
Cacao ceremony
Sound healing and other rituals
AHORA creates experiences that will resonate with you for life. Here are some stories
While working remotely in Tenerife, I finally found time to learn kite surfing properly. I tried it before on holidays, but the wind has not been consistent during my short stays in kite surfing destinations. Working remotely allows you to spend longer periods of time traveling, without the traditional limitations of annual leave days. It is a great opportunity to explore new places, go on adventures, and meet new people. AHORA and Uliana took care of everything I needed, and we had lots of good fun together with cool people! She knows the best spots unique spots on the island, and helped me with kitesurfing struggles (it's harder than you think). It's the perfect remedy for a winter dip, and an experience you don't want to miss out on!
Wesley Swildens
Global Delivery Manager @ LeasePlan International
I experienced wonderful Tenerife with AHORA and Uliana! Removing myself from my usual environment and spending one month among like-minded professionals, in beautiful and comfortable surroundings, living an adventurous life & trying many new things, all arranged by Uliana, while also getting my work done is absolutely one of the decisions I have taken! The time at AHORA made me grow a lot as a person, and I am humbled to have had the experience. Do yourself the favor of trying AHORA - I am confident you will love it as much as I!
Sabina Mocevic
Senior consultant @ EY
I had such a great time working remotely from Tenerife with AHORA! I am building my business and it requires my full attention and creativity. By changing my environment I got lots of new ideas that helped me to move forward. The coolest part was to be surrounded by great people with a similar lifestyle. We exchanged stories, lessons, and shared many special moments. There was always something going on, and Uliana showed us Tenerife from a local's perspective. I am still in touch with the friends I made in Tenerife, and we travel and work remotely together around the world! I miss the daily surf sessions, and I can't wait to visit again!
Jonathan Muhr
Co-Founder Jomigo
Uliana and I met while she was still working at Vodafone, and she inspired quite a few of our colleagues (including me) to work remotely from Tenerife. Working remotely with AHORA and Uliana is so much fun! It was great to leave my busy life behind for a while, and spend time in Tenerife's unique nature. Uliana is always up for good conversations, and inspires me to live life to the fullest. She understands the struggles of the modern world, and gave me tools to cope better with busy routines. I will definitely use this to level-up my personal and professional life. No other co-living / accommodation on the island will give you the same experience, so get ready for the best time of your life!
Michelle Yang
B2B Marketeer @ Vodafone
As an entrepreneur it is important to maintain a calm mind and a clear vision. Building a business can be challenging, therefore spending time in nature helps me to reflect and strategise. I have invested in myself by participating in retreats and training programs before, and I love that Uliana used the best elements to create the AHORA remote experience. She has a natural talent for bringing the right people together and creating a very special atmosphere. She attracts warm and authentic people around her, and I love to spend time with the AHORA tribe!
Giovanni Gubbels
Co-founder Chaincargo
Uliana's biggest talent is connecting people, she loves networking. For the last five years I have been running my marketing agency, and through Uliana's network I've met tons of interesting relations. Traveling and working remotely with AHORA helped me to take a needed break from my hectic routine, and motivated me to focus on my well-being and fitness. I loved engaging in various outdoor sports as much as visiting Tenerife's vineyards. Life is about balance right? If you crave for more balance as I was, AHORA remote experience is exactly what you need!
Ginger Spierings
Co-founder Marble Content Marketing
Together with my co-founders we are running our business remotely from different locations, and came together in Tenerife to take a step back and strategise. With AHORA Uliana created the perfect atmosphere to focus on our goals, while having a great time. During the events and activities I connected to many great people who share a drive for creating their dream life. It's great to surround yourself with people who think in opportunities, and inspire each other to enjoy everything that life has to offer!
Jannis Eller
Co-founder Jomigo
Traveling and working remotely with AHORA opened a new world for me. With AHORA and Uliana, you can leave all your worries at home, and just immerse yourself into constant adventure mood. Adventure with balance between comfortable, well-arrangged working conditions and joyfull unique and unforgettable experiences in between/after working hours. If you are open to lift your life, open your mind and heart, find new beginnings and simply be productive, AHORA is something for you. Enjoy the journey of remote working and self-discovery!
Ksenia Fursova
Brand manager @ Danone
WELCOME FROM THE FOUNDER OF AHORA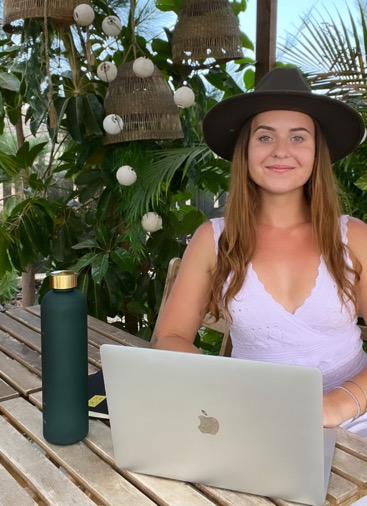 I am proud to have a Master of Science in tourism and hospitality management from EADA Business school, and over 10 years of working experience in the industry
Travelling is my biggest passion, I lived in 6 countries, and explored many more while working remotely
Creating unique experiences and strong communities is my expertise
With a certification in human design, I empower you to live in alignment
While creating AHORA, I combined my personal and professional experiences and everything that I love and stand for.
With AHORA I strive to unite likeminded professionals and support them in unlocking their full potential. Moreover, I want to give them the tools to find balance between productivity and presence, in order to live a more fulfilling life. 
I truly enjoy interacting with you!
Do you have any questions or remarks? Fill the form below, or reach out via e-mail! Love, Uliana
If you are ready to unlock your potential during a transformative remote working experience, but our starting dates, duration, or anything else does not align with your personal situation please reach out to discuss the possibilities.
You've got questions, we've got answers. Check out the frequently asked questions here. If you don't find what you're looking for here, reach out via WhatsApp or e-mail. We are here to help!